Latest News
Proposed 2014 USPS Promotions
The general intent of all promotions is to increase the value of transactional and direct mail and to retain or sustain its long-term growth. These promotions create excitement about mail, keep mail top-of-mind for marketers, reward innovative customers, show customers we want their business and encourage others in the mailing industry to provide similar sale initiatives for customers.
Additionally, the promotions may include features that encourage businesses to use USPS shipping products..
Pinnacle Award nominations due by June 30th
The Pinnacle Awards are a way to recognize our mailing community for their committment to professional growth and support of the Postal Customer Council. Standards have been set and there are 3 levels of performance: Bronze, Silver and Gold. Awards winners are announced at our annual Mailers Conference and Expo.
To be considered for an award you must self-nominate by June 30, 2013.
EMCM Certification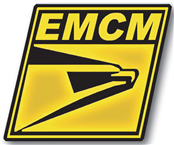 Congratulations to our members who received their Executive Mail Center Manager (EMCM) certification on May 23, 2013.
Board of Governor's Statement on Five-Day Delivery
The Board of Governors of the United States Postal Service has issued a statement on Five-Day Delivery. Please go to the link below for full details.