National PCC Week - September 28, 2017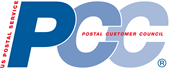 Please join your fellow GPPCC friends and supportive Postal representatives in celebrating National PCC Week!
This national event is presented as a partnership with USPS and is an opportunity to hear what's happening nationally and locally with the USPS from our local USPS leadership. By attending this event, you will automatically be entered into a drawing (must be present to win) for FREE registration to attend the 2018 National Postal Forum in San Antonio, Texas, May 6-9.
We will provide some breakfast treats for your enjoyment while we watch the PCC Day broadcast video. The video will be viewed by PCCs, mailers and Postal representatives from across the U.S.
What: National Postal Customer Council Day
When: September 28, 2017 from 8:00 am to 10:00 am. Video to begin at 8:30 am.
Where: USPS – Hoyt Post Office, 715 NW Hoyt St., 4th Floor, Portland, OR.
Why: To celebrate our many successes and achievements!
Cost: FREE