PCC Day - September 25, 2018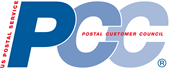 Please join us to celebrate National PCC Week and tour the Portland District's new state of the art Processing and Distribution facility. We will have dynamic presentations from USPS Postmaster General, Megan Brennan and Western Area Vice President. Greg Graves. In addition, we will be showcasing bold new ways for marketers to increase sales.
Those attending will be entered into a drawing for full registration and hotel accomodation to the upcoming National Postal Forum to be held May 5-8, 2019 in Indianapolis, IN.
A complimentary breakfast will be provided
WHEN: Tuesday, September 25, 2018 at 9:00 am - 11:30 am
WHERE: New Portland Processing and Distribution Center, 7007 Cornfoot Rd, Portland OR 97218