PCC Day - September 25, 2019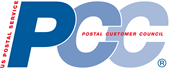 Please join us for a morning of networking and learning about innovative US Postal
products and services and how you can leverage them to enhance your company's
marketing and distribution operations. This is a FREE event!
Growth Driven - Fueling Your Mailing and Shipping Success
Date: Wednesday, September 25, 2019
Time: 8:00 a.m. – 8:45 a.m. Continental Breakfast
8:00 a.m. – 9:00 a.m. Registration
9:00 a.m. – 11:30 a.m. Event
Location: United States Postal Service - Salem Main Office
1050 25TH Street SE
Salem OR 97301
Please park in the employee parking lot where the entrance is just south of the customer parking lot. The security gate will be open during this time. You may park in any available parking spot except the ones located next to the building. When facing the building from the employee parking lot, enter through the door at the left end of the building. There will be a sign posted on the door.
Headquarters Keynote Speaker: Alan Caramella
Administrative Judge, Postal Service Board of Contract Appeals
Agenda:
Registration and Networking / Continental Breakfast
Welcome and Introductions
Keynote Speaker
PCC Awards
Educational Sessions
• USPS Shipping Overview
• Informed Visibility
Consultations, Networking and Closing

Registration is open and seating is limited. RSVP via email or phone to This email address is being protected from spambots. You need JavaScript enabled to view it.,
503-370-4711, Administrative Assistant to the Salem Postmaster, Marcia Titus.
Please provide:
Name
Title
Company
Address (Street, City, State, Zip)
Phone
Email
Number of Guests
Hope to see you there!