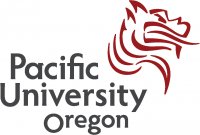 2043 College Way
Forest Grove, OR 97116-1756

Pacific University is a diverse learning community offering a unique combination of undergraduate, graduate and professional programs in the liberal arts and sciences, education, business, optometry and the health professions.

The school was founded in Forest Grove in 1849 by Congregationalist pioneers. Originally the Tualatin Academy, it became Pacific University in 1854 and conferred its first baccalaureate degree in 1863.

Today, Pacific University serves nearly 3,500 students on its campuses in Forest Grove, Hillsboro and Eugene, and also operates a variety of healthcare clinics in the greater Portland area. Students and alumni hail from all 50 states and several countries around the world.

Pacific University is committed to diversity, sustainability, discovery and excellence, and to inspiring students to think, care, create, and pursue justice in a global community.