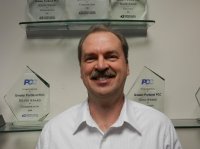 Solomon Training and Development
Wes Friesen (EMCM, CMDSM, MQC, ICP, CMA, CFM, CM, APP, PHR, CTP) is the Manager of Revenue Collection & Community Offices for Portland General Electric, an utility with over 820,000 customers and annual revenue of about $1.6 billion. Wes manages several departments: Printing & Automated Mail Services, Cash Remittance Services, Customer Pay Options and Community Offices.

Wes and the PGE print & mail operations were the featured cover story on the April/May 2000 issue of Mail Magazine, February 2002 issue of IPMA's Perspectives magazine, and February 2008 issue of In-Plant Graphics. Wes received the 2001 "Technical Excellence Award" from MailCom & MSMA. PGE was named 2001, 2005, 2008, 2009 and 2010 "Mailer of the Year/Gold Pinnacle Award" by the Greater Portland Postal Customer Council and received a "Partner in Progress award in 2006 and 2007, in 2002 PGE received the "Management Award" from the IPMA, and in 2008 and 2009 PGE earned NAPL's Gold Award and in 2010 earned a Silver Award. Wes received the prestigious Franklin Award in 2010 for his contributions to the mail communications industry.

For the past 27 years Wes has been an award winning University Instructor. He is a featured and award winning speaker at regional Postal Customer Council and MSMA Conferences and national conferences like National Postal Forum, MailCom, XPLOR, FUSION/TAWPI, IPMA and CS Week. Wes has had articles published by Mail Magazine, Today journal, Mailing Systems & Technology, Document, Perspectives and Inside Edge. He writes a "Real Life Management" column for Mailing Systems and Technology.

Wes earned a B.S. in Business Administration from George Fox University and an MBA from the University of Portland.

Wes was the Industry Co-chair for the Greater Portland PCC for 4 years, and sits on five total boards. He is also the Marketing Director for MSMA (Mailing Systems Management Association).