National Postal Forum, March 16-19, 2014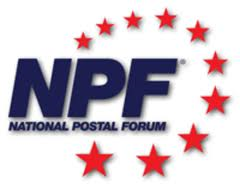 This year the National Postal Forum will be held at the Gaylord National Hotel & Convention Center - just 8 miles south of Washington, DC.
The National Postal Forum gives you advice on new technology… helps you streamline your processes… brings you exclusive updates from USPS executives… provides one-on-one consultations with postal executives… and gives you the chance to network with industry leaders.
Go to npf.org for more information and to submit your registration.