2015 National Postal Forum - Registration Drawing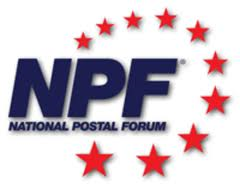 The National Postal Forum is an annual conference that brings together the mailing industry's top professionals, along with USPS experts. It is an fun-filled, education packed conference that provides business strategies and insights to help cultivate and grow business. With 100+ workshops, fantastic networking opportunities and a collaborative focus to bring mailing and delivery specialist from across the nation to highlight the latest innovations the industry has to offer, this is a not to miss event!
The GPPCC has been offered a FREE attendee registration valued at $900.00! If you have attended NPF previously and know the value of this four day conference or if you have always wanted to attend but it wasn't in your budget, now if the time to take advantage of this generous offer!
Blazer Game - December 15th, 2014

The Greater Portland Postal Customer Council invites you to join us at the Rose Garden for a night of fun featuring the Portland Trail Blazers on December 15, 2014.
We are also getting rights for "early entry". This will allow us to watch some of the players work out before the game, and get some pictures and maybe have a chance for an autograph or two.
Portland Blazers vs. San Antonio Spurs
When: Monday, December 15, 2014
Time: Game Time 7:00 p.m.; early entry 5:30 p.m.
Seating location: Purple section, 300 level
Cost: $30