National PCC Week - September 20, 2016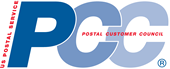 Please join your fellow GPPCC friends and supportive Postal representatives in celebrating National PCC Week!
Portland District Manager Tyrone Williams and Senior Plant Manager Felipe Flores will be joing us for a morning program including the PCC Week National broadcast video. The video will feature Postmaster General Megan Brennan, National PCC information, and PCC Awards announcements. Our fingers are crossed for the Greater Portland PCC to receive national recognition once again!
We will provide some breakfast treats for your enjoyment while we watch the PCC Day broadcast video. The video will be viewed by PCCs, mailers and Postal representatives from across the U.S.
What: National Postal Customer Council Day
When: September 20, 2016 from 8:00 am to 10:00 am. Video to begin at 8:30 am.
Where: USPS – Hoyt Post Office, 715 NW Hoyt St., 4th Floor, Portland, OR.
Why: To celebrate our many successes and achievements!
Cost: FREE