PCC Day - September 23, 2015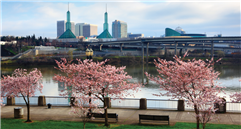 Bridging the Future…Together!
Bridging the future by empowering business to anticipate, manage and leverage postal opportunities for a competitive advantage. The daylong event at the Portland Art Museum, will include Education Sessions, Keynote Speakers, Vendor Exhibits, Product Demos, Networking and Door Prizes.
Save the date, September 23, 2015, now and check back for more details
Honoring the Past, Celebrating the Future - Collect the series of ten historical postcards and redeem then for a FREE PCC gift on PCC Day.
---
New Mailing Standards for Lithium Batteries
From USPS Industry Outreach - February 20, 2015
As part of the Postal Service's continued efforts to keep you informed, this is a reminder that effective March 2, 2015 the Postal Service is revising its mailing standards regarding lithium batteries to align with new regulations recently implemented by the Pipeline and Hazardous Materials Safety Administration (PHMSA), Department of Transportation (DOT).
This alignment is the final step in a series of amendments to harmonize domestic and international standards by mirroring DOTs Hazardous Materials Regulations (HMR) with the provisions of the United Nations (UN) Model Regulations, the International Civil Aviation Organization (ICAO) and the International Maritime Dangerous Goods (IMDG) Code.