National PCC Week - September 8, 2014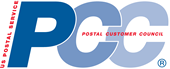 Please join your fellow GPPCC friends and supportive Postal representatives in celebrating National PCC Week!
Portland District Manager Kim Anderson will present the state of the USPS, following the PCC week National broadcast video. The video will feature
postmaster general Patrick R. Donahoe, National PCC information, and PCC Awards announcements. Our fingers are crossed for the Greater Portland PCC to receive national recognition once again!
Mailpiece Design Open Line for Mailers
Open Line webinars are scheduled to answer mailer questions about the new MDA Customer Service Help Desk process. The webinars will be held Monday through Friday beginning August 18, 2014 through September 18, 2014.
PostalOne! Release 38.0.0 Webinars
PostalOne!® Release 38.0.0 will deploy on August 24, 2014 and price and postage statement changes will go into effect on September 7, 2014.
Webinars will be held for mailers to learn about the PostalOne! Release 38.0 updates to functionality, as well as, pricing and postage statement changes.